03 Oct 2019
STYLE IN COLOUR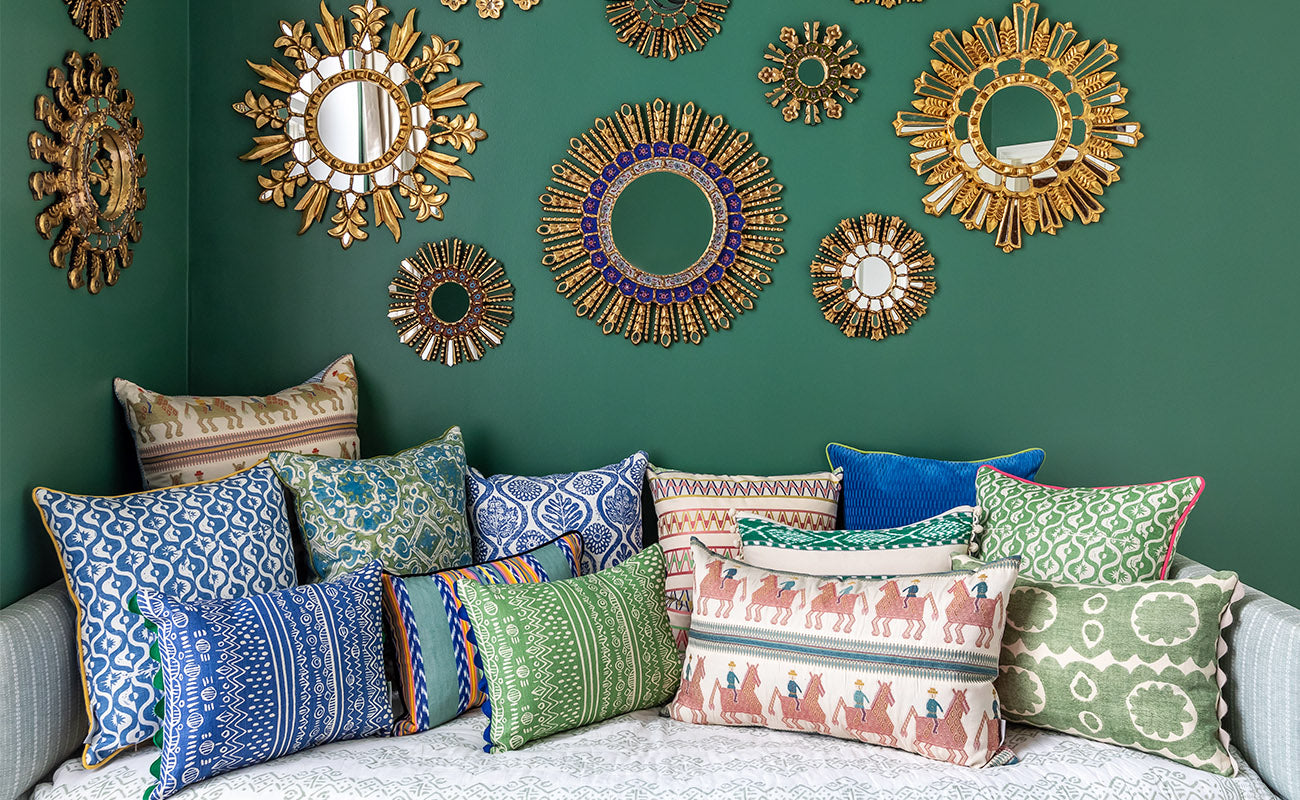 On cosy armchairs, sprawling sofas and just-made beds, cushions bring a home to life. Our philosophy is the more the merrier - pick your favourites and pile them up. But where to start? Timeless and traditional? Devoted maximalist? Lover of all things bohemian? Allow us to help build your perfect cushion collection - whether you opt for a classic mood, think bold and bright is best, or gather all things whimsical and boho, read on to find the perfect cushions for your home.
The Traditionalist
Favouring classic style, your traditionalist nature errs towards heritage prints and timeless shapes. Our woven Canfield stripes are an excellent starting point. Decide on a palette and select cushions which fit. Consider adding a pop of print via the Nahuala or Lilly, or introduce a bolder shade with our eponymous Wicklewood design - a vivid screen-printed piece with our signature contrast ricrac. Pairs are a classic option, but we like to go for an odd number, so throw in one odd cushion to the mix and why not try a non-symmetrical layout to introduce a contemporary edge.
Styling tip: For a more relaxed look, arrange cushions organically rather than lining them up.
The Maximalist
Always upping the ante on interior style, go bold or go home is your maxim. Head straight to our jaspe oblongs - in five delicious motifs and available in two sizes, these woven designs are the perfect eye-catching starting point for your cushion extravaganza. Vibrant colour is your calling card, and Kirby or Small Medallion in a variety of tones will add punch to your palette. Layer in some print via the eye-catching Saltaire, or look to Antigua stripe to complete your scheme. The vivid tones (and trims) of the Fern will always be a winner and works beautifully with printed pieces. Consider colours carefully - a planned clash can look great for impact, but needs a nuanced eye, particularly if your room is a riot of bold and brilliant colour.
Styling tip: Mix in some softer hues to keep the more is more mood in check.
The Bohemian
Unconventional and avant-garde, your home reflects your whimsical nature and love of travel. And the Wicklewood cushion collection has plenty of options to add oomph to your interior. The Linwood, an artisan geometric pattern makes a lovely starting point for a mood. Opt for interesting jacquards with original motifs: the Tiger Tiger and Tree of Life designs are handwoven in Guatemalan and backed with understated prints. Consider adding in simpler prints or softer shades to keep things fresh -  Mali's clean lines will go with everything.
Styling tip: Experiment with a considered arrangement - careful styling can lend a boho mood grown-up edge.
SHOP THE BOHEMIAN
Read more: STYLE IN COLOUR