29 Jan 2019
DESIGN INSPIRATION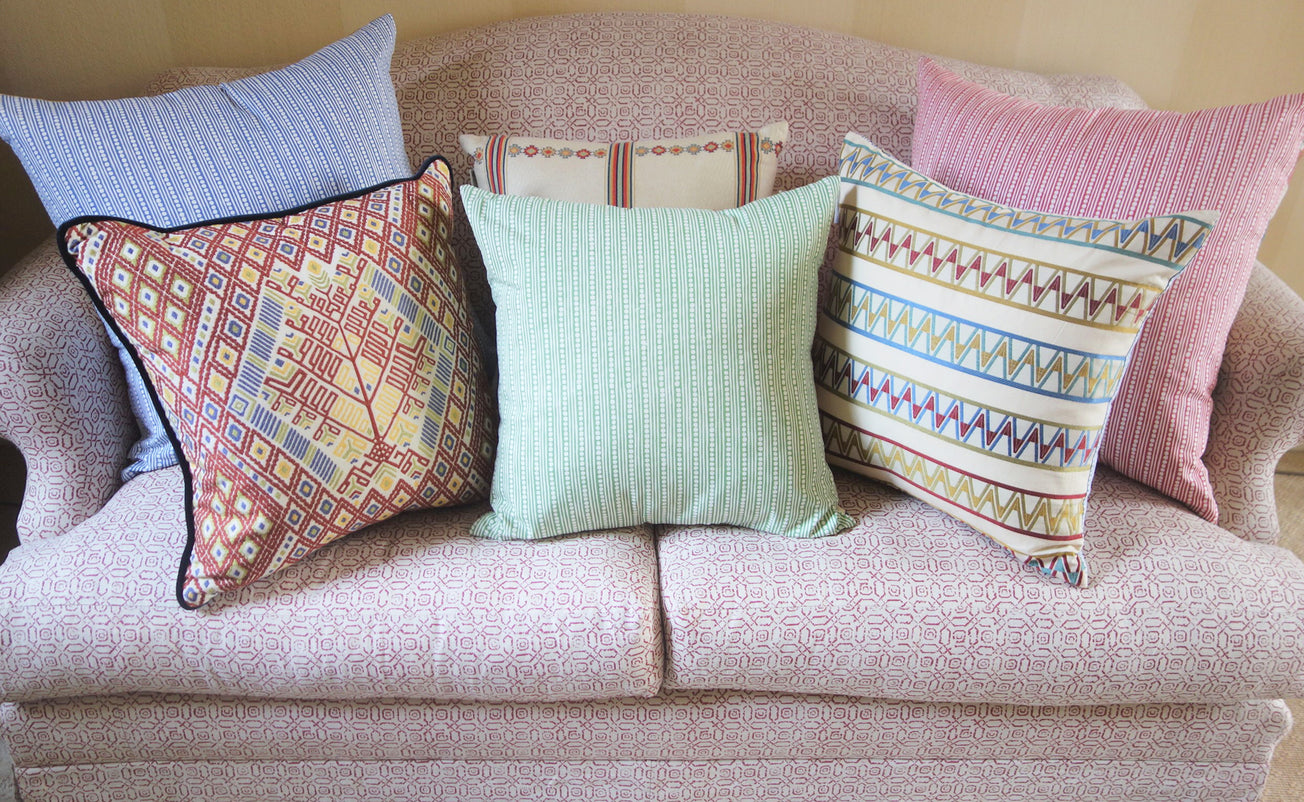 Ever wondered about the story behind the name Wicklewood?
Wicklewood was named after our sister company Blithfield's eponymous fabric, a playful design with dots and stripes that has been in their collection since 1997. When we asked Anne Dubbs, Blithfield's creative director (click here to read our interview with Anne last year), about the inspiration behind this design she told us that it was inspired by an original 19th-century textile document found in Paris. The original document was altered and adapted to make a printed linen version for their first collection and for over 20 years its versatility has made it a must-have. 
We love Wicklewood, so much that we even named ourselves after it. And, what better way to celebrate this brilliant adaptable fabric than backing our entire originals collection in complimentary red, blue and green Wicklewood cotton - making them even more versatile and colourful than before.
We're all about seasonal changes and love that our reversible cushions will instantly spruce up your home, not just from season to season, but from weekend to weekday or even morning to night. Our reversible cushions are one of the easiest (and most inexpensive) ways to achieve a fresh look from sofa to chair to bed and beyond. Here they are in all their spotted and striped glory...
The Caballo is inspired by Guatemalan textiles from the 1930s archive of Lilly de Jongh Osborne and her horseback travels through the highlands exchanging new textiles for old. 
Our Nahuala is a woven jacquard design in a palette of blue and gold jewelled tones. Inspired by original Guatemalan textiles from the Lilly de Jongh Osborne archives, Nahuala is a vibrant fabric which celebrates traditional Guatemalan diamond motifs. Jacquard is a type of fabric with a complex woven pattern which resembles embroidery. Using the Jacquard loom distinct patterns are woven directly into the fabric. Some of our intricate Guatemalan designs have been woven on a jacquard loom to preserve the minute details found in the original textiles from Lilly's archive.

The Lilly cushion, named after and inspired by Lilly's books, photographs and textile collection and combines colourful vertical stripes and horizontal Guatemalan motifs to give an elegant bohemian feel. 
Crafted from the classic Guatemalan tree of life design, this richly woven design incorporates Guatemalan diamond motifs alongside the trees, creating a geometric effect. The Tree of life design is famous in many countries around the globe. The design is associated with both religious and spiritual beliefs.  A tree is a magnificent symbol of the natural world and an eternal cycle of seasons and life, given by sun, rain, earth and air. The traditional dress throughout Central America is the woman's huipil where the tree of life motif is often seen tied to region and ethnicity. 
Our exclusive Tiger Tiger design was inspired by a fanciful Guatemalan tiger motif that we encountered on our travel to the country. The design is intertwined with brightly coloured geometric motifs, which are common in the Central American region. Originally woven on a backstrap loom, the stylized Tiger Tiger design is full of personality and in these classic Guatemalan colours, these cushions, perfect for both adults and children, will help make a room come alive. 
Inspired by our travels to Santa Catarina Palopó and the beautiful Casa Palopo Hotel, these fun zig zag cushions are a Wicklewood favourite. Santa Catarina Palopó is a municipality in the Sololá department of Guatemala. The municipality is located on the shores of Lake Atitlán - a breath-taking bright blue lake surrounded by lush greens, which inspired many of our products and our colour combinations. 
Wicklewood backing will be available on our original collection from February 20th.
Read more: DESIGN INSPIRATION