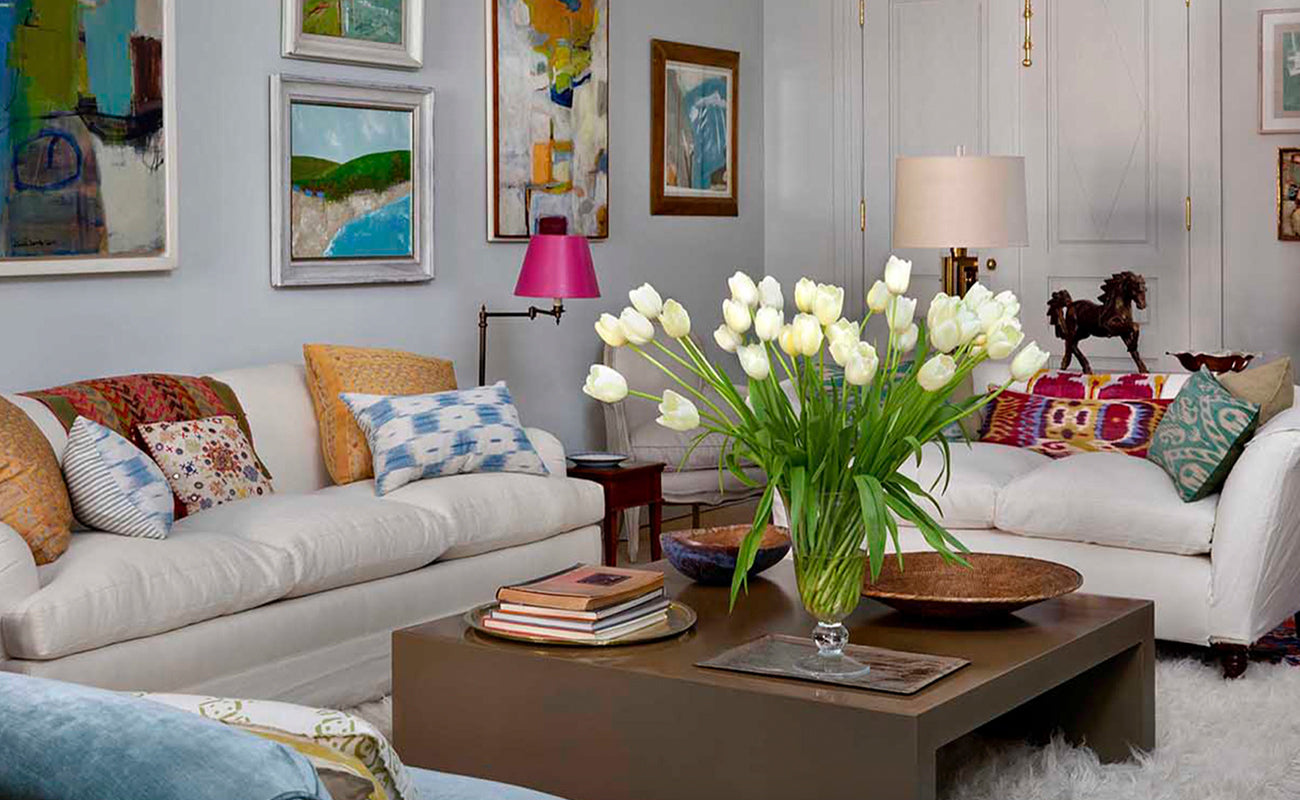 We hopped on the sofa with Anne Dubbs, Founder and Creative Director of Blithfield – the iconic fabric and wallpaper company – and talked to her about her "obsession" with design, the importance of finding a mentor and the the best advice she has ever been given. 
WW: As Creative Director of Blithfield - the iconic fabric and wallpaper company - what is your aim or objective when you start the design process for a new print?
AD: Developing any new design is primarily intuitive. Then it's about the timing and the "character" of the design.  And it's always about retaining the artisan quality of the Blithfield Collection, overall. We always aim for a certain point of view and to have new designs work well with the existing collection. A constant effort to have pattern, color and character working together.
WW: Your inspiration is the source for all the fabric and wallpaper designs - where do you get your inspiration? 
AD: Inspiration is everywhere. No limit to where one finds inspiration and new ideas. It's an endless search for new designs, new colors, and unusual motifs. For the past 20 years Blithfield has been gathering documents and we now have an extensive archive of design inspiration. The archive often forms the starting point for a new design and serves as a reference library for our new collections.
WW: We counted just over 50 designs in Blithfields numerous collections. Do you ever get "writers block" as a designer or do you eat, sleep and dream new ideas and concepts? 
AD: No "writers block"! It's actually an obsession.
WW:  Blithfield is now in its 18th year. As a successful female founder of an interiors company, what piece of advice would you hand down to others trying to start-up in this competitive industry? 
AD: Try to be sure that this business is right for you. You need vast patience and tenacity. This is a hugely competitive business. If you decide that this business could be a good fit, plunge in and don't allow anyone to discourage you. I am fortunate to have a seasoned expert as an ally and mentor. Survival without the guidance and encouragement of a mentor would have been almost impossible. I was told: "This business is mostly about love and not about money" and finally, "if you decide to become an entrepreneur, enjoy the process. You will meet wonderful people and the whole experience will change your life."
Best advice. Ever.

WW:  And finally, if Wicklewood could make a limited edition product, what product would you want us to make?
AD: Furniture. 
Wicklewood grew out of Blithfield founded by Elizabeth Downing and Anne Dubbs. Boasting an extensive range of colourful, printed and woven designs inspired by historic documents from around the world, Wicklewood reimagines Blithfield's original designs into distinctive, ready-to-use, pieces all made in the U.K. Shop the collection now.