16 Oct 2020
DESIGN INSPIRATION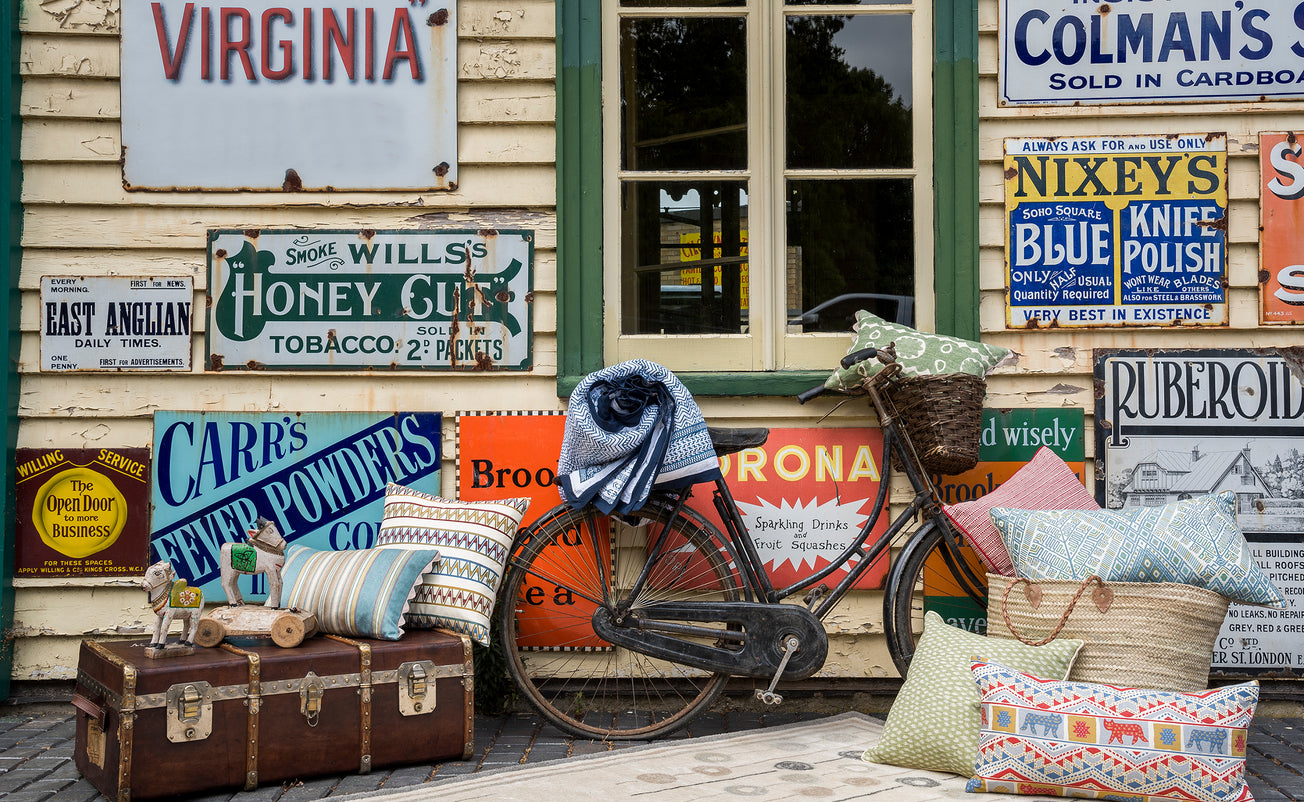 These cities are bursting with interior gold waiting to be discovered. Just make sure you pack an extra suitcase...
LISBON
'First stop? The Feira da Ladra (often thought to mean 'thieves' market') - a Lisbon institution, started in the 13th century, it's equivalent to London's Portobello Market or Madrid's El Rastro. Set an alarm and arrive early to sift through the junk - you can find some serious treasures. A stroll through the market takes you to 'Armazém das Caldas' – a traditional Portuguese ceramics shop selling pieces from Caldas da Rainha, the capital of Portuguese pottery. The shelves are full of crockery, tableware and decorative objects - an explosion of colours.
Created by Catarina Portas, A Vida Portuguesa is a design shop with a few locations around the city.  Each store sells a varied collection of traditional Portuguese products from soaps to vintage furniture, decorative tiles to ceramic bowls. For some serious tile inspo, no trip is complete without a visit to the The National Tile Museum in Lisbon. Yes, the beautiful tiles that Portugal is so famous for have their own museum... Overlooking the port, the museum is packed full of amazingly preserved tiles, or azulejos as they are known in Portugal.'
Image credits: Feira da Ladra market: For 91 Days Travel Blog. Armazém das Caldas shop: primeiracasadarua
COPENHAGAN
'Copenhagen's flea markets are a collector's dream - vintage Danish furniture, mid-century modern decor, crockery, vintage porcelain sculptures, unique antiques - something for everyone. Thorvaldsens Plads Antique Market has been Copenhagen's most popular spot for antiques and collectibles for years. We love it for the high quality of the merchandise, and because of its beautiful surroundings - right in the heart of the old quarter. Next stop is Loppehylder - literally translated as 'flea shelves' - a flea market-style shop full of Danish antiques.
If it's the modern Scandi vibe you lust after, Arhøj Studio has become something of an obsession for design-oriented Danes. With their bold, trendy colours, the store delivers high-quality and handmade with a light-hearted edge. Then, The Stilleben Duo, specialising in glass and ceramics, it's the brainchild of designers Ditte Reckweg and Jelena Schou Nordentoft. Close friends with a passion for good craftsmanship and peculiar objects, the pair have been travelling the world handpicking products since 2000 and their wares reflect their eclectic, international approach - think Japanese teapots, Tuscan vases and Danish textiles.'
SHOP COLOURFUL DECORATIVE ACCENTS
Image Credits: Thorvaldsens Plads Antique Market: Getlocal.com. Copenhagen – Alexander Spatari/Getty Images via Departures.com
MADRID
'Our favourite thing about Madrid is the incredible mix of delicious food and amazing interiors - local tapas spots are perfect to fuel a day of hunting for hidden gems. One of my favourite places to go to is 'El Rastro', in La Latina, Madrid's most famous flea market. The actual market happens on Sunday morning, but there are lots of small independent shops dotted around the area, open every day. The atmosphere is brilliant - stalls packed with everything you can imagine and young and old mingling in the streets. You can find good quality pieces that are very affordable. Refuel with a chocolate with churros from Churreria Santa Ana - a traditional 'churreria' founded in 1895.
Around the city there are so many wonderful stores - Pequeña Inglaterra for one of a kind home décor, El Almacen de Loza is tabletop heaven and Gonzalez & Gonzalez offers a wonderful selection of 'everyday' products, carefully curated – slow living at its very best. If you have time between shopping and eating, visit The Sorolla Museum - it used to be the painter's house and the traditional interiors and charming city garden are so joyful. Favourite souvenir? Chocolates & Sweets from Bomboneria La Pajarita – the packaging is as wonderful as what's inside!'
Image Credits: Madrid - The Sorolla Museum – Viator.com. Pink Madrid buildings – traveleyes-international.com
PARIS
'Looking for antiques in Paris, your first port of call has to be the Marche aux puces de Saint-Ouen. Just outside Paris, it's a speedy metro trip and open on Saturdays, Sundays and Mondays. You'll want to devote a day to this if you're really on the hunt for something good - the sprawling market includes warehouses, stands and alleyways that are really a series of different markets. When you need a break (you will), wash down some fresh bread with a glass of wine at Ma Cocotte, overlooking the market.
Le Village Saint Paul in le Marais - the beautiful old Jewish quarter - is another great place to wander the shops, albeit for more high end antiques and incredible artwork. Find the striking Saint Paul church and the best shops are down a small little alley next to it. The beauty of this area is it's as wonderful for window shopping and exploring as it is for shopping - a real hidden gem. Lunch has to be at Cafe Charlot - the tables here spill onto the street - it's the perfect spot for a traditional Parisian lunch and some people watching.'
Image credits – Macocotte: Macocotte via marieclaire.fr. Le Village Saint Paul in le Marais – messnessychic.com
Read more: DESIGN INSPIRATION