27 Nov 2018
DESIGN INSPIRATION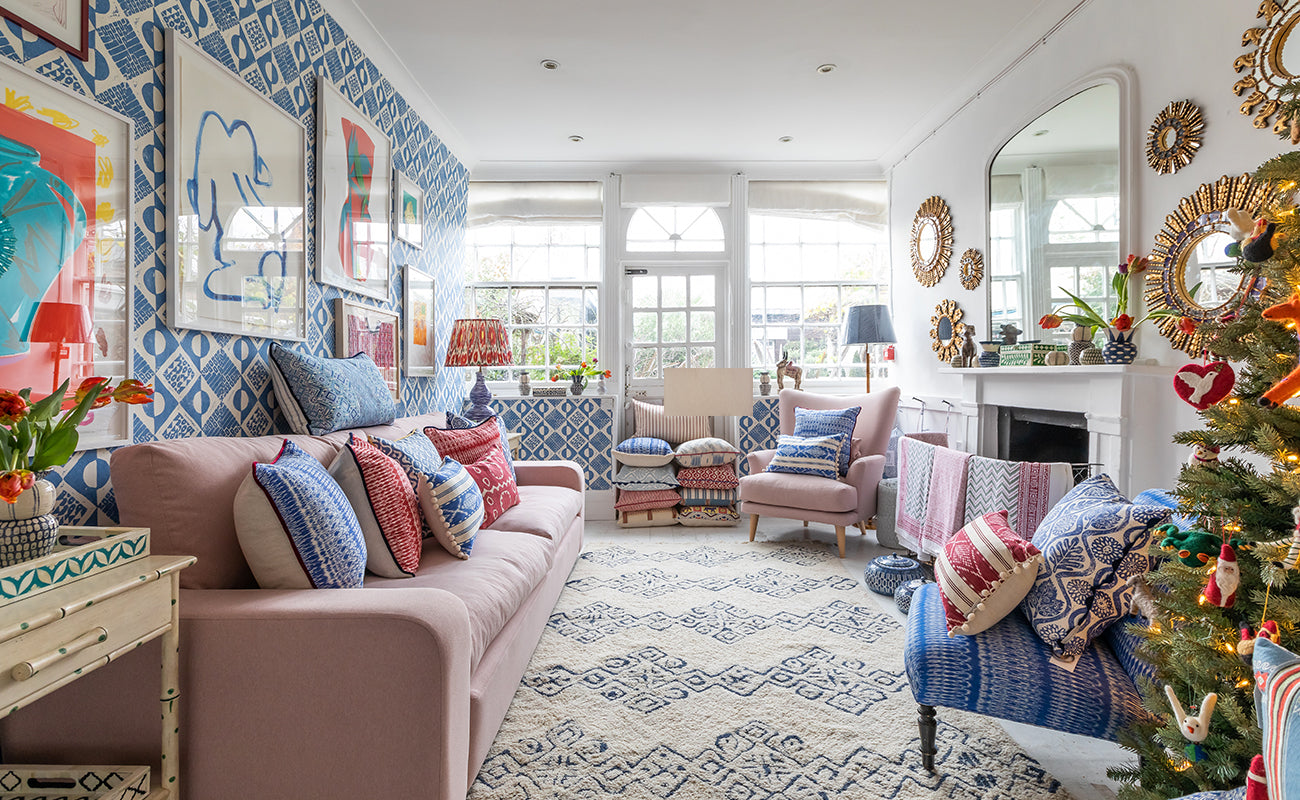 Yesterday we welcomed floral and interior stylist extraordinaire, Willow Crossley, into The Revolving Room to transform our space into a cosy blue and red abode. After spending a few years in her twenties, in the south of France collecting rare brocades from markets and turning this passion for textiles into a business, Willow then went on to write books, such as The Art of Living with Nature and, most recently in 2016, Flourish - inspired by wild and wayward floral styles. We snuggled up on the sofa, to chat about out how she mixes flowers and interiors and learn the insider secret to flower arranging like a pro. 
Does the way you style flowers translate into the way you decorate?
Most Definitely. Both my decorating and flowering styles are very free, wild and full of colour. I'm not a fan of neatness - straight, restrictive lines bring me out in a rash! Whether I am styling or designing a room or a vase of flowers, what I want to create at the end, is a feeling of comfort, happiness and homeliness. And, for it to be absolutely beautiful. 
What was your favourite part in the creative process when designing Wicklewood's revolving room?
Seeing it all come together at the end! I loved the whole process, it really was a dream project. It took me hours to come to a decision on which pieces to pick though - I was so indecisive - there were so many gorgeous ingredients which made it very hard to choose my favourites. 


Any tips on creating stylish bouquets at home without complication?
Give as much thought to your vase as the flowers themselves. Proportion is so important. You want flowers to be one and a half times the height of the vase.  And, try and choose seasonal flowers - anenomes are are my faves at the moment.
What do you love the most about living in the countryside?
The space and the greenness. And, I love the (slightly) slower pace of life. I love being able to walk for miles and not see anyone.


If you have to choose a favourite Wicklewood cushion/product which one it would be and why?
I adore the the indigo vases and the blue flora plates. You might have noticed from my room sad that I have a slight obsession with blue and white!
A BIG thank you to The Revolving Room partner brands - Arlo & Jacob, Blithfield, Pooky, Partnership Editions and Chelsea Textiles
Come and see Willow's edit at The Winter Shop & Revolving Room until Thursday 29th November
Read more: DESIGN INSPIRATION