10 Jun 2019
DESIGN INSPIRATION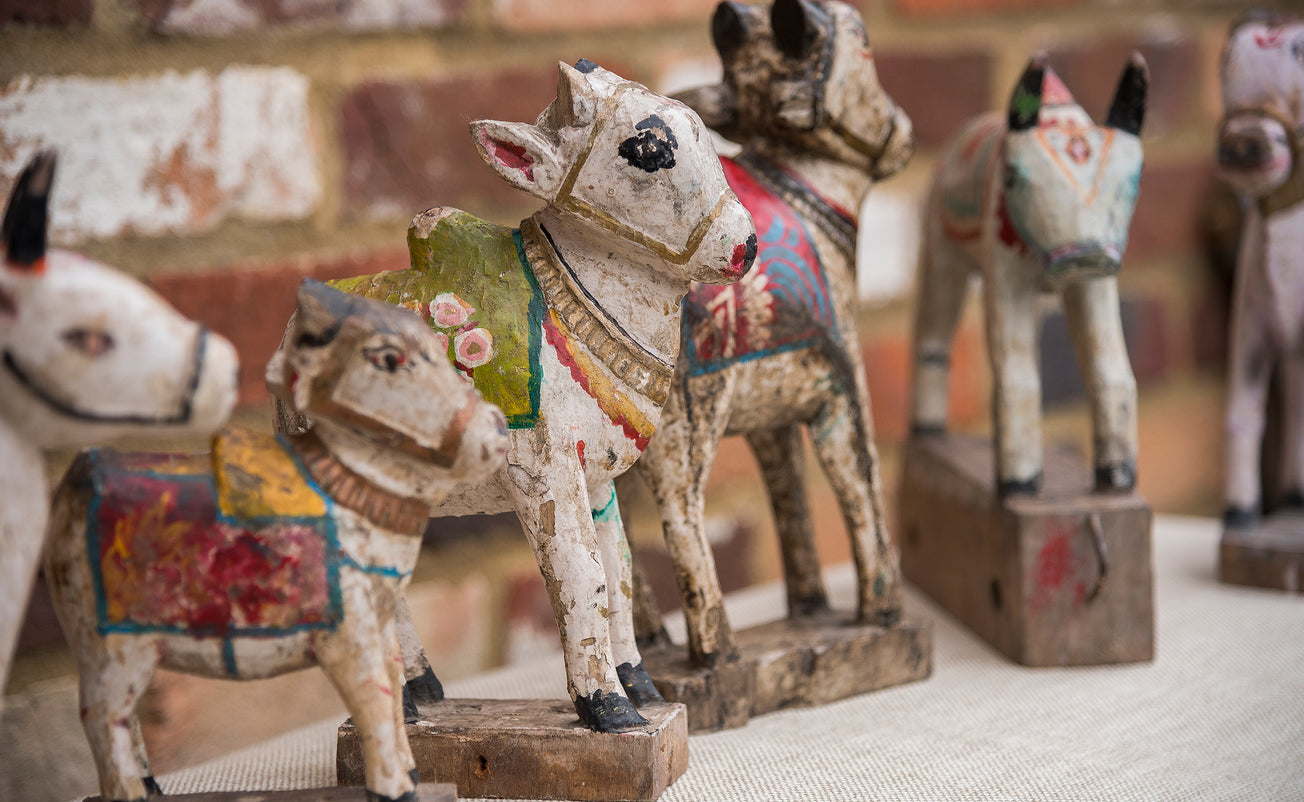 A globe-trotting spirit runs through the heart of Wicklewood, we relish the joy of seeking out treasures from far-flung shores. A Wicklewood classic are our wooden bulls. Discovered on a trip to India, we fell in love with these miniature carvings of the bull-calf god, nandi, and we're sure you will too.
Steeped in history and the subject of a thousand folkloric stories, in ancient Hindu custom the nandi is a sacred bull calf and the vehicle of mighty Lord Shiva. Bearer of truth and righteousness, giant statues of this faithful bull are found in front of most Hindu temples dedicated to Shiva. Usually depicted kneeling or seated in worship, these enormous statues are dressed by worshippers for festivals with bells, clappers and colourful floral garlands.
Standing nandis, on the other hand, are a processional vehicle. Most often carved in wood, during festivals these statuesque standing bulls, sometimes on wheeled carts, will carry a bronze image of Shiva through the streets in celebration. Across India, there is huge respect for bulls due to this special link with Shiva. 
Often painted white, nandis are a symbol of purity and justice and said to promote fertility. In sanskrit, the word nandi means happy, joyful, blissful. Throughout history the loyal nandi bull has been linked with the representation of faith, wisdom, virility, honour.
We scour India to track down our miniature nandis. Each one is vintage, carved in wooden and hand-painted - often with a garland or necklace. Over the years these nandis would have been painted and repainted at important festivals. Highly collectible, no two nandis are ever the same. Each piece holds all the wonderful nandi symbolism along with their own unique stories and are beautiful examples of traditional Indian wood carving.
From white wheeled bulls to natural wooden designs, we give each one-of-a-kind nandi a name. With their rich history and cultural symbolism, nandis are a wonderful addition to your home. Display your precious nandi as a standalone piece, or collect a tribe of carved bulls. Aesthetically speaking, we love them styled with our intricate Indian inlay trays and boxes, for a modern bohemian mood.
Shop our new selection of vintage one-of-a-kind Nandi Cows now
Read more: DESIGN INSPIRATION