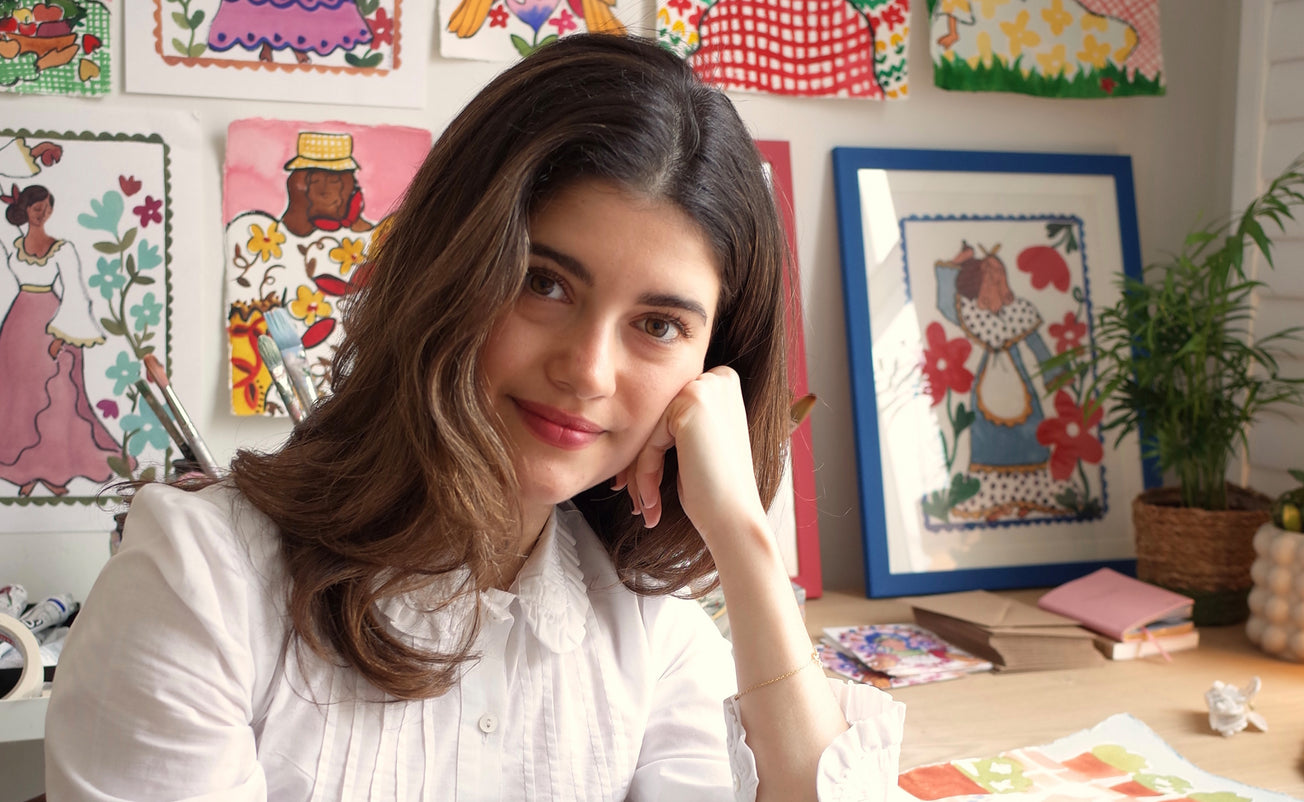 'My aesthetic is joyful, feminine and decorative,' says artist Willemien Bardawil, 'I love bringing expressive colors and patterns to my simplified forms.' Based in West London, the figurative painter turned a passion into a profession during Lockdown 1.0 last year. Her magnetic, whimsical figures captured our imagination and we're delighted to introduce an exclusive series of her iconic figures.
The colour, pattern and unbridled joy that leaps from Willemien's pieces chimes strongly with our aesthetic, and her passion for celebrating women is perfectly aligned with our own ethos. We were delighted to invite Willa onto our (cushion-covered) digital sofa to catch up on studio style, inspirations and creativity.
WW: Where did it all start?
WB: I've been creative since I was a child - I always loved drawing, painting, sewing. After university I went straight into a job in fashion but always kept up my passion for art with gallery visits and the occasional drawing class. It wasn't until the first lockdown of 2020 that I was able to pursue my passion as more than a hobby.
Shop the Flores Bellas Collection
WW: What inspires you?
WB: Renaissance and Romantic periods always inspire me, I love the celebration of nature and joyous depiction of life in many of the old masters. I often use the movement of their figures as muses for my modern female figures. Recently I've been influenced by Impressionist art, particularly Renoir's women. Living in West London, I'm lucky to be surrounded by some of the most iconic galleries in the world; I love the National Portrait Gallery, the V&A and Leighton house which is around the corner from me.
WW: What is your creative process? 
WB: I usually start by seeing a painting in a gallery - the composition or movement of the figures might appeal to me. Next I'll pencil sketch on paper, then go in with watercolor paint and finish by defining my picture with a Japanese ink brush. Commissions usually start with photos and color-stories.
Shop the Flores Bellas Collection
WW: Where's your studio?
WB: My studio is at home - I have large windows and beautiful light which creates an air of spaciousness. I make use of all the space around me - hanging my watercolours and inspirational images on cork boards on the walls. And I love having plants in my studio, they bring a sense of tranquility.
WW: What's your philosophy on colour?
WB: Colour and pattern are essential in my work - usually I choose a colour I feel like painting with and intuitively work from there. Recently I discovered a Dictionary of Colour Combinations; a beautiful Japanese colour theory book which has become totally invaluable to me - I use it on nearly every artwork now.
Shop the Flores Bellas Collection
WW: What's next?
WB: I'm launching a spring collection for Liberty's which is super exciting and then another fashion related collaboration this summer...
WW: What's your dream Wicklewood cushion combination? 
The Lily, The Somerset and The Osborne.
Shop 

C

olourful Cushions