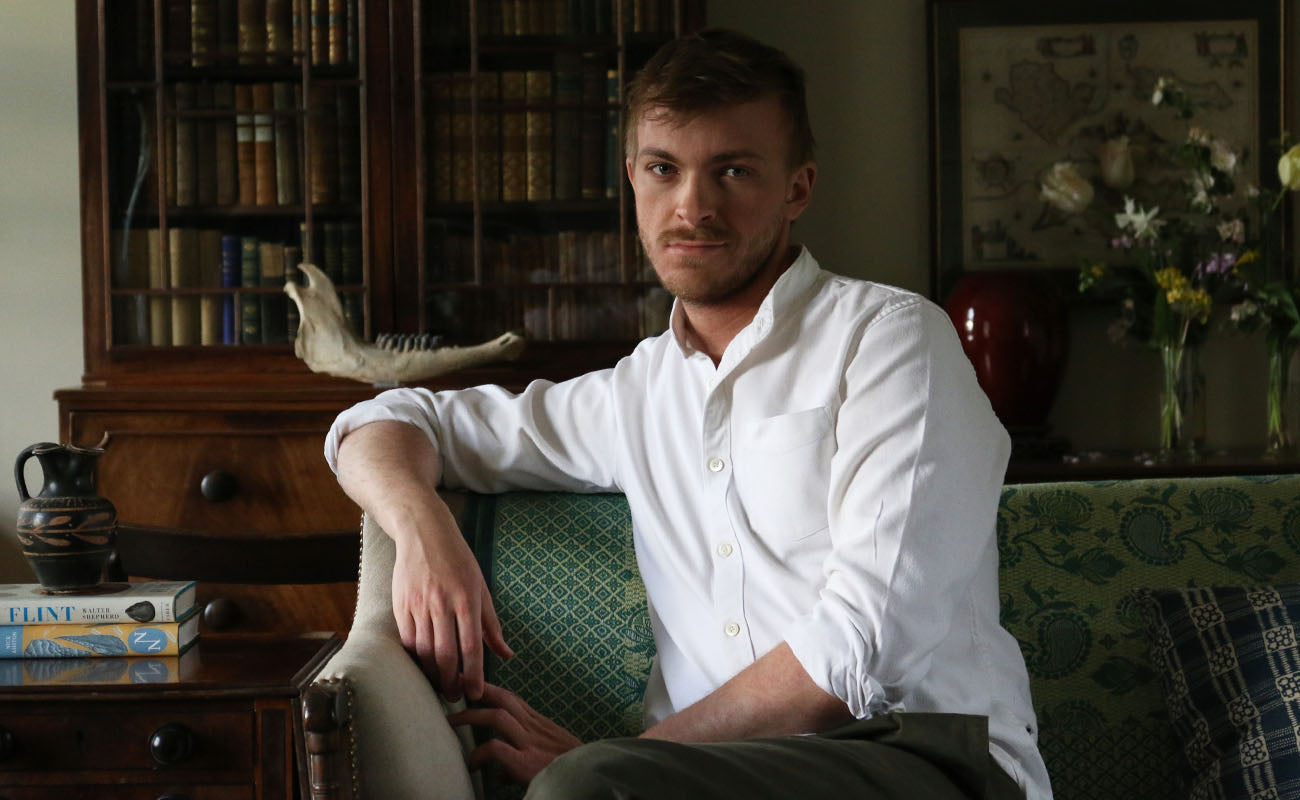 'I'm 26 and I've had no formal training so I'm still finding my way,' says artist, illustrator and interior designer, Robin Lucas. Dividing his time between London and Lancashire, Robin has quickly become a name to know in the world of art and illustration. Destined to be a medic, he studied Biology at Oxford, quickly realising a creative path was the way for him, 'my favourite part of my first year was dissections, I'd spend hours drawing a frog or a squid, stippled to the point it was jumping off the page' he says.
An internship with World of Interiors magazine cemented his thoughts, but his scientific degree was by no means wasted, 'studying biology has made me delve behind the aesthetic', he says, it taught me so much - why an orchid look like it does, where it comes from, the backstory'. One look at his detailed paintings and illustrations reveal his vast knowledge of the natural world. Robin is self-confessed collector - 'I love the concept and mentality of collection and curation,' and avid gardener - 'I love growing things and cutting things, bringing wild plants into the house' - both themes play into his work.
With two books under his belt, and an established illustration business (Dior is a client), Robin is turning his skilled hand to interior design - naturally his instinct for curation is coming into play - 'It's about reflecting a person in the space that they're in' he says. We met him to talk science, art, traditional interiors and why books are the one thing he couldn't be without...
WW: Tell us about your work?
RL: Full-sized wildlife paintings are my bread and butter - right now I'm working on a huge panel of hedgerow plants. I've done all sorts - commissioned artwork for weddings with weird and wonderful animals; a dinner for Dior last year where I painted lampshades, menus and place cards; two books - I have hundreds of doodles and designs; furniture, gardens, sketches of people - and a publisher approached me to create one on London and one on Tuscany. It's all illustration, in some form, and I'm just getting started with some interior design.
WW: How would you describe your interior style?
RL: It's traditional, put together in an interesting way. I don't think I'm ready to categorise myself yet! Curating objects, finding a narrative, things found on travels, things you love. Some of my illustrations are my imagination playing around with designing an interior; collecting things in my head and piecing them together. I think about people, how I'd make an interior for them. Interiors are revealing, they shows how you live as well as your taste. The colours, things on display, even the way you arrange a room can show if you're introverted or extroverted.
WW: How does your degree play into your creativity?
RL: My science education has taught me so much - the science behind the aesthetic is fascinating. Incongruous things frustrate me, chosen because they're pretty, with no logic or thought process. At university, I spent alot of time in museums, herbariums and collections - the Pitt Rivers, the Natural History Museum, the botany department at Oxford University has the most incredible treasures.
 WW: And you're also a gardener?
RL: I love gardening, I have always been fascinated by plants. Since I was a small child, I've had a patch in the garden. I love taking a branch of apple blossom and watching it come into full blossom and then go over. A friend of mine says when you cut something, it's in a progress to death, you've killed it - it's so fascinating to watch that process, how the plant changes.
WW: What is your most precious possession?
RL: Books have played a big part in my life. I'm suspicious of a room without books, people without books. They make the best wallpaper and insulation - a room lined with books is warm, inviting, interesting and conversational. They're beautiful objects, very tactile, interesting smells. And the stories behind the stories - who owned them previously, where they come from, the paper, the binding, the print, the press - so many things go into a book, let alone the contents…
 WW: Finally, please style your favourite scatter cushion combination…
Shop Robin's favourite cushion combination