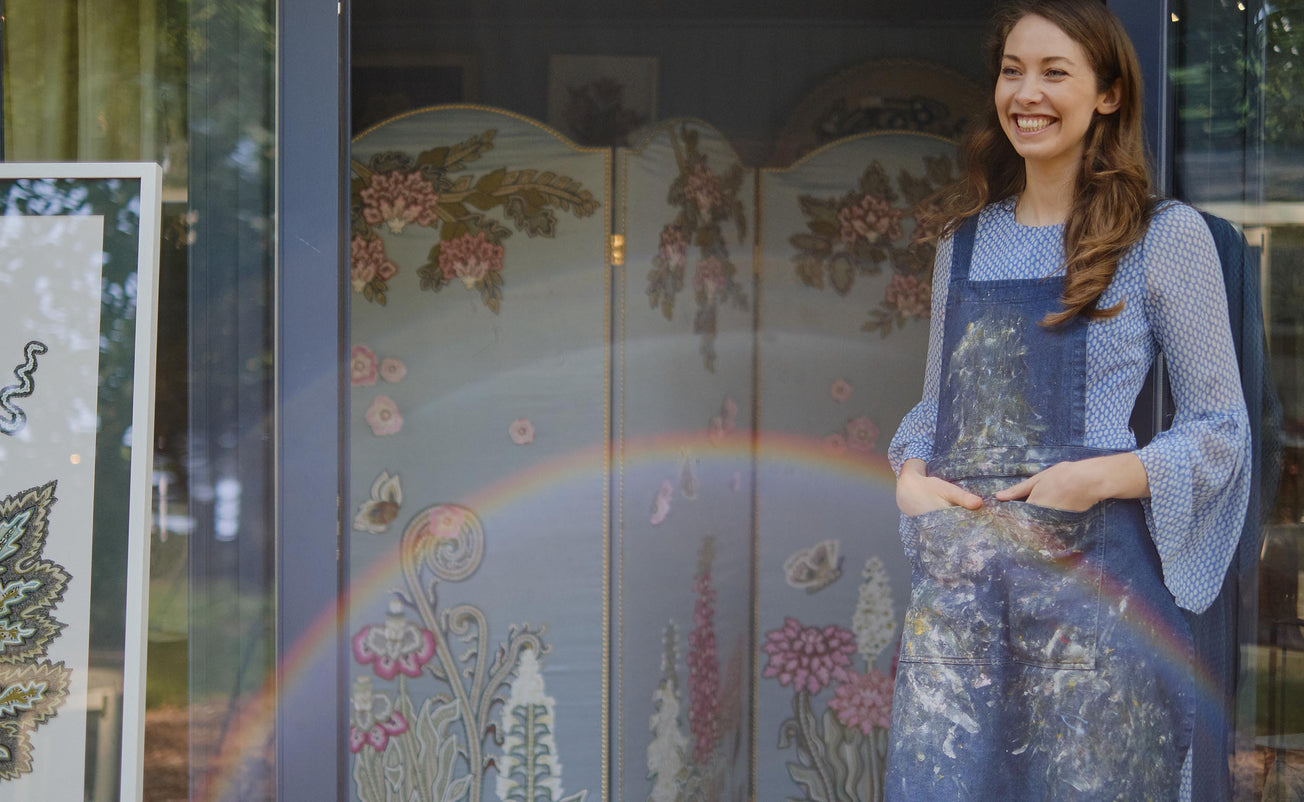 'I don't go anywhere without my Gardener's encyclopaedia of plants and flowers' says textile artist Natasha Hulse. An alumna of Chelsea College of Art and Design, Natasha creates intricate nature-inspired textiles using embroidery and applique - from bespoke headboards to cushion covers. Her first headboard - a magical 'Tree of Life' design, was created for The Whitby Hotel - a New York outpost of the elegant Firmdale franchise. For this year's Chelsea Flower Show, Natasha has collaborated with our sister company Blithfield to produce a range of beautiful lampshades, applying her ethereal, botanical embroideries to two of Blithfield's signature fabrics, Kirby and Oakleaves. We heard more about her unique aesthetic and outdoor inspirations.
Natasha Hulse at Chelsea Flower Show 2019, featuring cushions in Blithfield's Kirby and Oakleaves
WW: Where did your passion for textiles begin?
NH: As soon as I could draw! I added texture and pattern to fabric, painting and making applique artworks for clothing and accessories. On my bedroom wall I've painted an inside garden - flowers and birds floating around a six-foot apple tree with three dimensional apples that are baskets, for trinkets. I've always had a crafty side to my aesthetic, I love traditional painting and applique techniques, juxtaposed with modern, purposeful design.
WW: What inspires you?
NH: An eclectic mix of imagery, ranging from beautiful illustrations from children's storybooks to pressed flowers I've collected in the woods. The most important influence to me is first hand observation of nature - I draw from fresh cut flowers and ramble in the woods. I'm very inspired by fine art - Peter Doig, Henri Rousseau, Pierre Bonnard - I love Bonnard's painting The Violet Fence.
Natasha Hulse at Chelsea Flower Show 2019, featuring cushions in Blithfield's Kirby and Oakleaves
WW: What's your interior design style?
NH: The elements are always colour, texture, nature, and whimsical charm. Colour offers a wonderful balance; if you get it right it can be fun, restful and uplifting all at the same time. Texture is essential for depth and movement. And whimsical charm, found in bespoke, hand-painted artworks, sewn and upholstered into pieces of furniture and soft furnishing, pieces that allow your imagination to run wild.
WW: Tell us about your collaboration with Blithfield?
NH: I was first drawn to the depth and vibrancy of Blithfield's colours, then I discovered the rhythm and direction in the pattern of the Kirby fabric. I wanted a show stopping fabric and it's great for the spring botanical garden theme I'm showcasing at Chelsea Flower Show. The design creates movement through repetitive pattern, carrying the applique works - butterflies and flora - creating a botanical narrative; the depth of colour brings the scenes to life.
WW: What's your most precious interiors piece?
NH: I have three, all hand-crafted treasures with a touch of whimsical charm. When I was born, a woman called Mrs Welsh embroidered me as a baby holding a kite, then added the year I was born - it's one of a kind. I have a treasured teapot that I found in America, painted with a house in the middle of a field and glazed with a dream-like pearl finish. And, my wooden office chair from my Grandpa and Grandma - it's painted with a botanical scene.
Shop our range of Kirby and Oakleaves cushions now