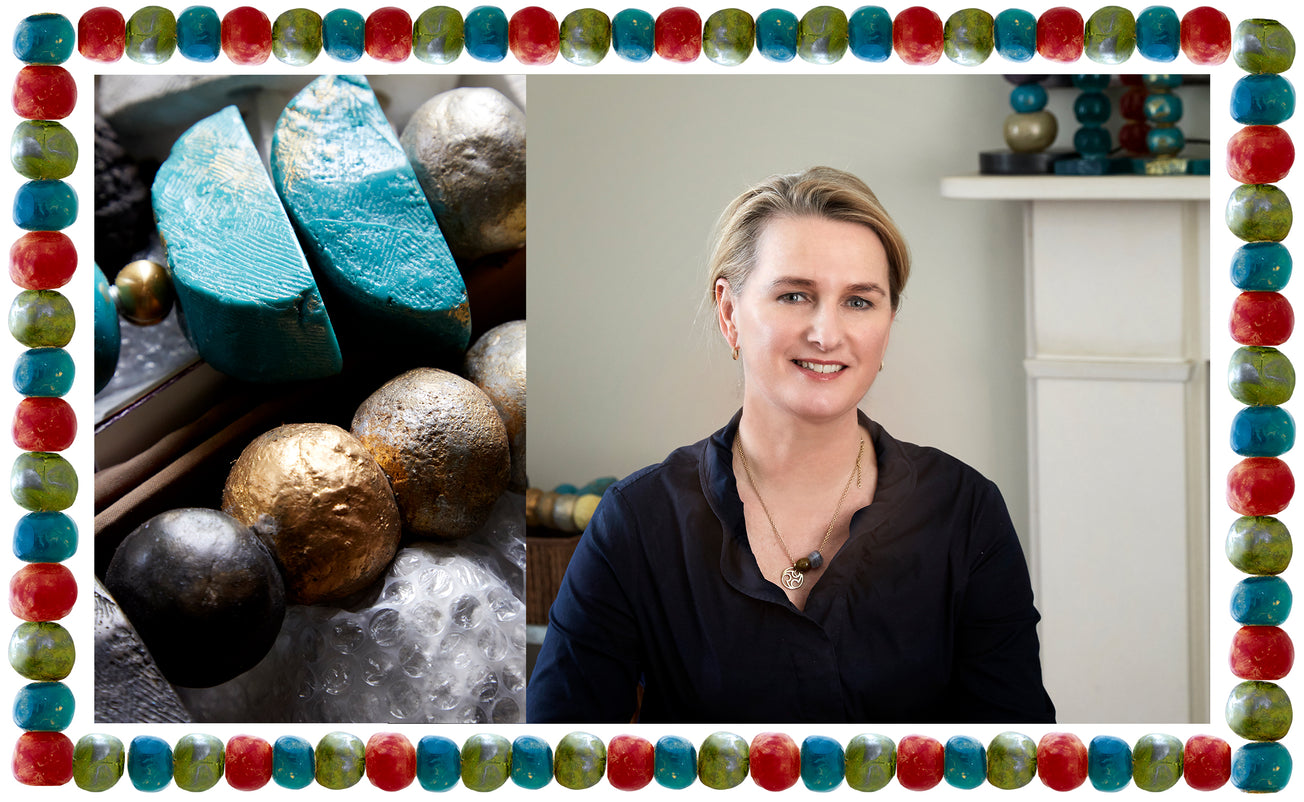 'Some people say that I turned lighting into art,' says sculptor, painter, and furniture and lighting designer Margit Wittig. Looking at her beautiful, sculpted piece, this sentiment is certainly true. Born in Germany, Margit grew up with an artist mother in a 'creative environment'. She originally trained as a physiotherapist, before finding her true calling as an artist and maker.
'An interior will always be beautiful when it reflects the personality of the owner,' she says, a philosophy we agree with, wholeheartedly. Margit's characterful pieces are always on our wishlist, and indeed, her bespoke lighting creations hang in our new flagship store, No 13. We invited Margit onto our virtual sofa for a virtual glass of something, to chat about her work, style, and inspirations...
Margit Witti's home in London and one of her bespoke table lamps.
WW: Tell us where it all began?
MW: As a child, we painted watercolours of our garden, made puppets and melted old candles to cast wax Christmas ornaments - these filled the house with a wonderful scent I'll always remember. Casting is something I still do, along with resin and bronze.
My original training and work was as a physiotherapist. When I moved to the US in 1997 I took a hiatus from work and then when I moved to London as a young mother, I began figurative sculpting at the London Art Academy. Over the years I've developed my own abstract style, eventually my sculpted heads and other shapes in resin and glass developed into lamps - I needed them in my own home! My first orders were from friends, then interior designers - I launched my first handcrafted table lamps in 2010.
Margit's resin cast candlesticks, finished with a brass drip catcher.
WW: What inspires you?
MW: My work is informed in particular by the sculptures of Brancusi and Giacometti. And texture is a central theme - on park walks I take snapshots of the bark on trees and plants or on gallery visits zoom into paintings to look closely at the brush strokes. These inspire my work - creating a unique organic texture by applying the multiple layers of patina to add depth.
WW: What is your creative process? How would you describe your aesthetic?
MW: Every new piece starts with a sketch. Once the idea is on paper I decide on the material - bronze, resin, jesmonite, or clay - my first choice. It's wonderfully versatile. I don't like wasting material; I use clay to make the moulds for resin sculptures as well as developing ideas which I keep as maquettes.
Margit's chandeliers take centre stage at Number 13 in London.
WW: What's your colour philosophy?
MW: Choosing colours is very personal - like being drawn to certain scents or music. One should trust one's instinct and be surrounded by your favourite hues in your home. Experiment with risky colours on items you can replace easily - cushions and lampshades.
WW: What's your favourite part of your home?
MW: In my home, the living area is our hub. It's where our family gathers on comfy big sofas with loads of cushions. I'm not a formal person so although there are some lovely pieces it's informal and comfortable. It can look a bit overwhelming at times as it also serves as a bit of a store room for my work. Walls are covered in my pictures before they move on to buyers, and chandeliers and lights hang from everywhere whilst in process - it adds to the artistic atmosphere.
An array of Margit's wonderful pieces of bespoke lighting.
WW: And what's next?
MW: It's all very exciting - as well as chandeliers for private clients around the world, I'm completing a room divider made up of multiple elements for a hotel in the UK, some bespoke side tables for an interior designer's project in New York and my largest chandelier to date for a commercial building. The most exciting thing for me is discussions with a gallery about a possible exhibition - as an artist, it's thrilling.
WW: Finally, what is your dream Wicklewood cushion combination?
Oakleaves Yellow Cushion, Cranfield Stripe Gold Cushion and Circles Green Cushion.
Shop Margit Wittig's favourite Wicklewood cushions here.