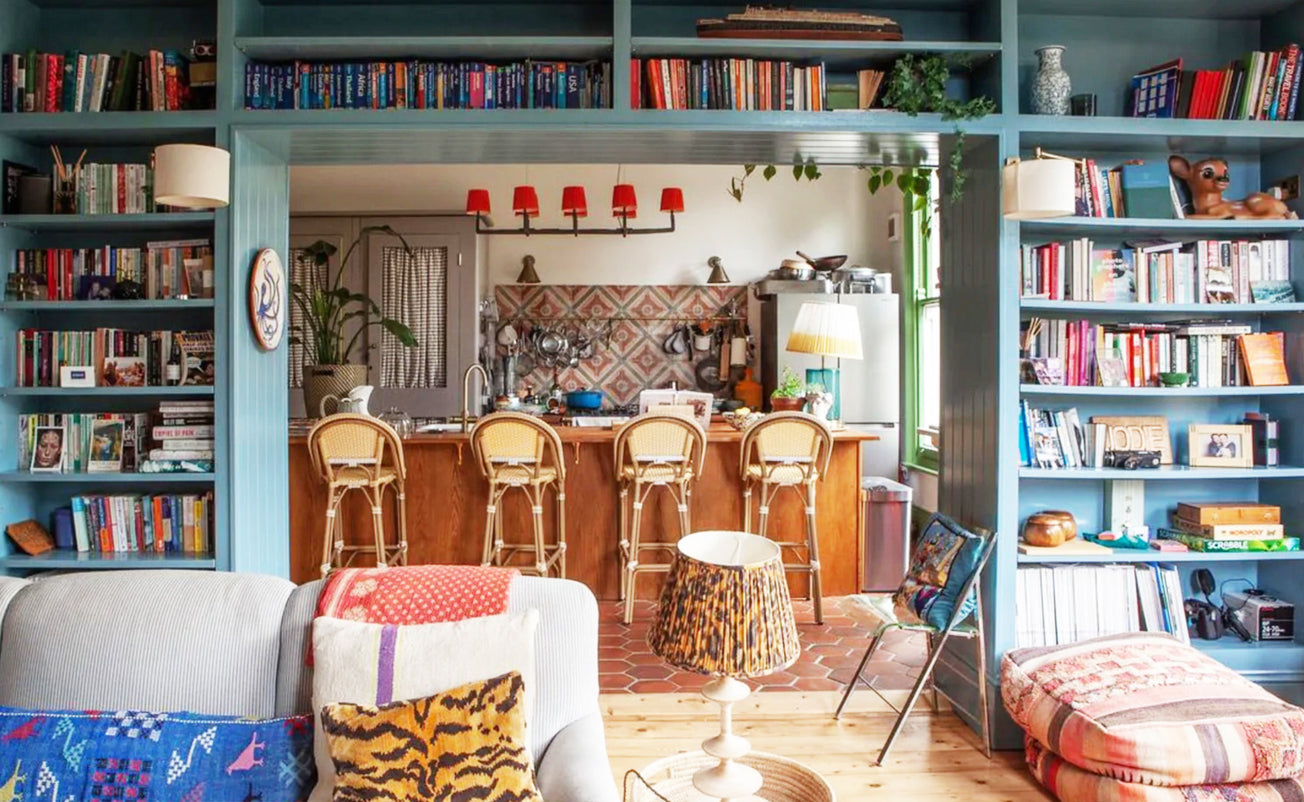 'I'm passionate about strong colour,' says Jodie Hazlewood, the make-up artist and interiors aficionado behind the popular Instagram account @thehouseupstairs '– it makes me feel inspired, happy and light.' And indeed, a quick flick through her grid illustrates that this philosophy plays out beautifully in her home – a light-filled maisonette conversion within a Victorian house in a leafy suburb of Nottingham. It's clear the space is a canvas for Jodie's creativity and exacting eye for colour – here vibrant walls and frames make a striking backdrop for layers of print and texture via cushions, shades and other home details. 
'I've always been into interiors,' she says, 'I remember dragging my Mum around our local department store when I was 10 to look at bedding, wallpaper and matching curtains for my bedroom.' Creativity is clearly innate to Jodie – 'I've been a makeup artist for the last decade,' she says, 'there's a big crossover with that job with the focus on colour and textures.' We sat down with Jodie on our virtual sofa to talk colour, travels and the importance of always having somewhere to put your drink…
WW: Describe your interior style? 
JH: My style is comfortable, eclectic, bohemian, relaxed and well travelled. Definitely not too perfect! I'm very inspired by travel, as well as memories of tours of National Trust properties I visited as a kid. Magazines, books, pinterest and instagram are big daily influences.
WW: What's your colour philosophy? 
JH: I am passionate about strong colour, it makes me feel inspired, happy and light. I always try to balance bright colour with some more muted tones to keep it chic. I love pink and reds together, blues and green in the same room and pale blue with brown.
WW: What are your top three interiors tips
1. Mix prints with care
With prints a classic rule of thumb is to mix a plain, stripe, large scale print and small scale print. Rules are always there to be broken, but if you don't know where to start this is a good place.
2. Consider balance and contrast
Designing an interior is all about balance and contrasts. A dark dramatic hallway leading to a light bright room, using overscale lamps in a small room, painting the inside of a cupboard in a surprising bright colour.
3. Create spaces for living
There's nothing worse than not having somewhere to put your drink. Always try to have a table of some sort next to every comfortable chair, and a lamp – so you can see what you're reading.
WW: Favourite room in your house? 
JH: I love our bedroom as it's a little calm oasis right at the top of the house. I used peaceful blue tones and it's quite matchy matchy (for me) which I find very relaxing. It's very quiet up there and I have a little armchair and footstool as a place to read.
WW: Most precious interior possession and the story behind it?
JH: I try to not be attached to most possessions but I love the charcoal sketches in our bedroom – we bought them at the flea market in Bordeaux.