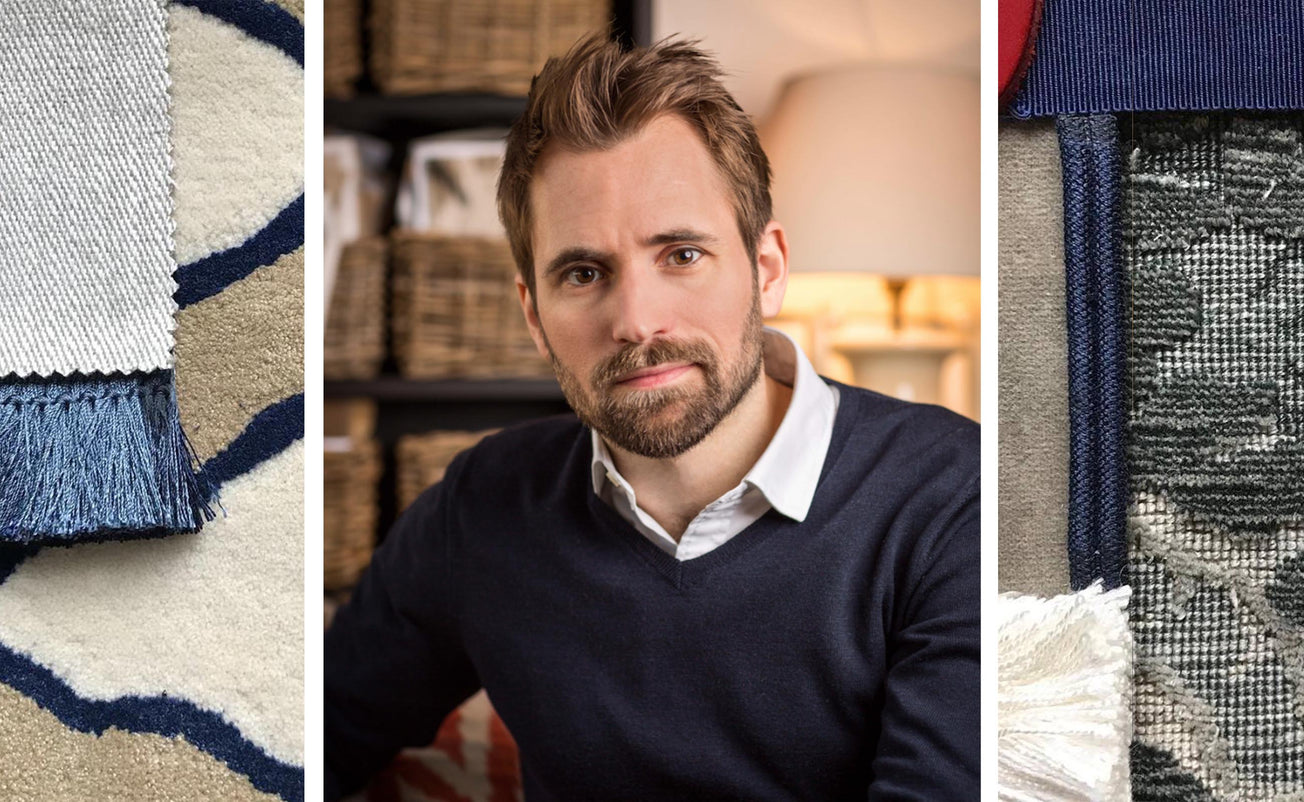 'I still have a picture of how I wanted my new bedroom to look when my family moved-house when I was about four years old,' says London-based interior designer Henry Prideaux, 'the first indication of my future career…' In his last year at University Henry snapped up a job as a runner and then assistant designer for professional decorator Jonathan Hudson, following up with positions at a spate of designers and architects.
Having cut his interior design teeth, Henry presented his CV and portfolio to London Interiors legend, Nicky Haslam, who spotted Prideaux's potential and gave him a job on his design team. 'I learnt how to create world-class interiors, with access to some incredible projects' says Henry. After a stint in the Harrods interior design department, in 2014 he made the leap and went solo, setting up his own studio - Henry Prideaux Interior Design. 
Henry's interiors style varies from project to project - from 'english country house with a twist,' in a Chelsea pied a terre he completed this summer to adding modern updates to a heritage Georgian townhouse in Southwark. 'I love it when the client has bought into an idea,' says Henry, 'we make some brave decisions, and it starts to develop into something totally original with all sorts of bold design features; a home that is unique.' Wicklewood heard more...
WW: How would you describe your interiors style?
HP: I love to create beautiful homes that are tailored around a client's lifestyle and designed to work in harmony with the heritage and architectural style of the building. Where possible I bring in colour, texture and pattern to bring a design to life, making the home feel authentic; different layers to add originality and character.
WW: What's your colour and pattern philosophy?
HP: I rarely use the same colour throughout a scheme, so individual rooms and spaces look and feel different, and I look at the tone of a colour to see if it will work together or in contrast with another colour. There are no hard and fast rules - I'll assess how a brief can be interpreted and exaggerated to offer original design solutions. I don't overdo the use of pattern and will often balance a decorative fabric or wallcovering with something plain.
WW: What is your top tip for designing/decorating a small space?
HP: Don't be afraid to use larger-scale furniture with bold colour and pattern. Consider using a small quantity of an expensive fabric or wallpaper to create a focal point and something really special. And use as much wall space as you can for clever storage solutions and eye-catching design features, particularly if you're dealing with a lack of floor space.
WW: How do you ensure an interior space works for all seasons?
HP: Make sure you have different curtain layers for winter and summer - voiles, blackouts or heavily-lined treatments. Ensure there are plenty of light sources at various levels, that can be adjusted to suit the occasion and the time of day or year - table lamps, wall lights, hanging lights, overhead spotlights - so that you can easily set different moods.
WW: What seasonal updates are easy to make?
HP: Of course, the most effective way to update your interior from season to season is with different textiles and soft furnishings. Swapping scatter cushions in a living room, table dressing in a dining space or bed linens, cushions and throws in a bedroom make a real difference. Consider swapping dark lampshades for something lightweight for the summer months. Well-chosen house plants or fresh cut flowers will add to a seasonal theme.
WW: Finally, can you style your favourite scatter cushion combination…
HP: The Ikat Colebrook alongside the Tree of Life cushion and Wicklewood oblong in Red would be a winning combination for me.
Shop Henry Prideaux Wicklewood favourites