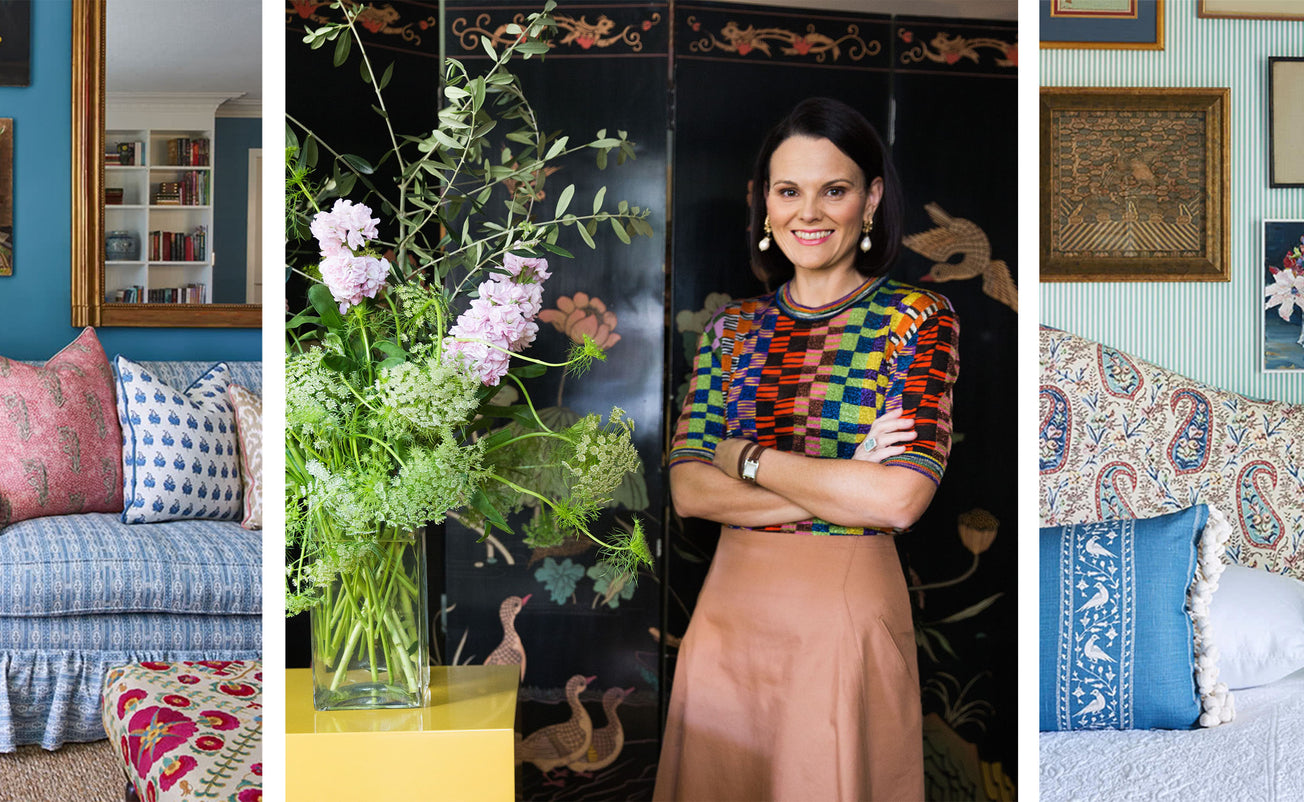 Anna Spiro is a Brisbane-based Interior Designer with a passion for vibrant colour and a flair for layering textiles with antiques and special one-off pieces. As a result, she creates inspiring spaces full of charm. In addition to running her renowned interior design practice, Anna is also the creative director of Anna Spiro Textiles and the author of one of our favourite coffee table books - Absolutely Beautiful Things. We sat down and chatted to Anna about her legendary design aesthetic and the secret to mixing patterns efficiently...
WW: When did your passion for colour and pattern start?
AS: I have always used lots of bright colours and patterns in my work. I grew up surrounded by lots of colour in our family home and my grandmother was an artist.  We also spent a lot of time at the beach as children. I feel all of these experiences and influences made me appreciate and fall in love with colour and pattern. 
 St Lucia Apartment by Anna Spiro Design
WW: Do you have any tips to add a personal touch to a rental space?
AS: Buy well from the start and with your heart! Don't buy all your pieces of furniture from stores such as Ikea and Freedom. Break it up and buy some pieces from antiques and vintage stores. This is sure to create a stylish, individual and layered look. Add a collection of beautiful textiles into the mix and if you run with what you love eventually your house will become a layered space full of amazing things you have collected over time. 
Hawthorne River Front House by Anna Spiro Design
WW:  What's the secret to mixing different patterns efficiently in the same room?
AS: To get the right look mix different pattern scales. Mixing small patterns with medium and large patterns together always creates more interest within a room. Keep the look unique with a combination of florals, stripes and geometrics. If you do tire of pattern quickly use it in a smaller scale. Scatter Cushions, lampshades and small stools or chairs are a perfect way to do this.
 Melbourne city house by Anna Spiro Design
WW: What's your favourite Wicklewood cushion combination? 
AS: With such a great collection available it was almost hard to choose! There are endless possibilities available within the Wicklewood collection. I have selected cushions that use a mix of bright colours as well as different patterns and scales. This combination all ties back together using one statement fabric with a few eclectic patterns thrown in the mix.